Other Facilities
Computer Laboratory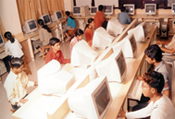 In the field of Visual Communication the visualiser needs to execute his designs in various media. Computer Graphics, Animation, Exhibition Design, Interface Design etc. are the advanced subjects for the students to study within the course. In today's competitive scenario the designer has to be computer savvy to be successful.

The college has well equipped, spacious computer lab. Each computer has the latest graphic and multimedia software's. Well-experienced teaching staff guides the students. The software and hardware is regularly updated to keep up with industry pace.

Concerted efforts are made in this college to train the students to make use of modern technology in the learning pursuits. The teachers make use of the software's during the course of their teaching.
Photography Lab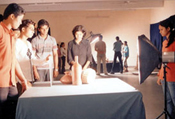 Photography is one of the specialized subjects taught in this College. Photography is a significant component of advertising and visual imagery. The College has developed a well-equipped professional studio which fulfills all the requirements of the students of this subject.
Art Gallery
With a view to provide an opportunity to young talented artists and to give expression to their hidden artistic potentials, this College has established its own art gallery where the students display their work.